Schiano Talks Fatigue, Penn's Fitness
August 8th, 2012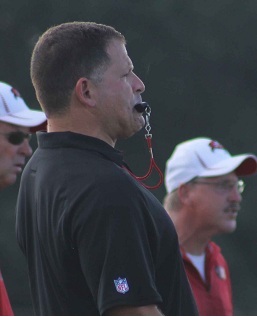 The leader of the New Schiano Order has sauteed and fried the Bucs in the summer sun, but now it's time to freshen up for a game — finally.
Greg Schiano said he liked what he saw at today's practice, even if it wasn't pretty. "We looked heavy-legged, but the thing I liked about it. They busted their butt," Schiano said. "It's ok to be there [with great fatigue] now.
As for the Bucs worrying about holding back their playbook on Friday in Miami for the preseason opener, Schiano shrugged that off. "I wanna run our stuff," he said, explaining that the Bucs' identity will be clear.
No suprise to learn that the Bucs' haven't worked on a "game plan" for the preseason opener, Schiano said, but they'll now "shrink it down" starting tomorrow so players are efficient and ready for Friday.
Asked about Donald Penn's condition, Schiano paused and explained that Penn's healing calf injury could be a blessing. "It's really given him an opportunity to get himself into pretty good shape," Schiano said.