"Old Habits Are Hard To Break"
August 23rd, 2012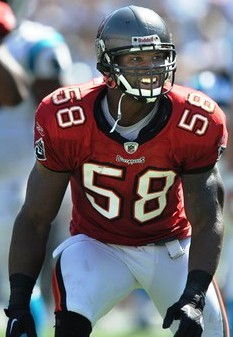 In the first two preseason games, Joe thought the Bucs starting defensive line got penetration on opponents, but some fans apparently didn't see what Joe saw.
Take Rich Herrera of WHFS-FM 98.7. He has been harping on the Bucs defensive line, but was recently set straight by both former Bucs defensive tackle Booger McFarland and Woody Cummings of the Tampa Tribune.
In an exchange between Herrera and Cummings last night, Joe found it eye-opening that what some fans see as problems on the defensive line is actually a problem with the play of the Bucs linebackers.
Rich Herrera: I am watching the defensive line play, talking about getting blown off the ball, Booger McFarland says, "No, no, no, no, no," they are getting beat off the ball because they are getting beat on double teams because the linebackers are not scrapping and are not playing downhill but they are reading and reacting. I am paraphrasing, but [the linebackers] are not helping out with those double teams. What am I missing as far as the lack of linebacker play goes?

Woody Cummings: What you are missing are somethings you and I would have to spend 25 or 30 years working in the game to understand. It is so many little nuances and details. Coach Schiano explained it to us. His  [defense] is a downhill, attacking type of defense. I guess old habits are hard to break? Because what a lot of the Bucs linebackers and players in general have done these first couple of games is to fall back into the old habits. They get into the game — they [run Schiano's defense] in practice and they do it OK — but they get into a game, they got back into the old Raheem Morris read-and-react style. Basically, you mirror the offense and wait for the guy to come to you and you go that way. Which is opposed to what Coach Schiano wants, which is the ball is snapped and you go and find that ball and you attack it and you bring that player down. Like I said, old habits are hard to break; you get in a game situation you want to find that comfort zone in order to make plays. I think it is going to take a while for some of these players — even though they came out of systems better suited for an attack defense, downhill approach. Mason Foster is like that and I think so too is Quincy Black. It's going to take a while to become accustomed.
Joe found this fascinating insight and it speaks volumes into the task that Greg Schiano has in climbing out of a hole the Bucs find themselves in defensively.
It seems the quicker the Bucs defenders can lose their old habits, the quicker the defense can improve.