"Until They Have To Break A Tackle …"
July 29th, 2012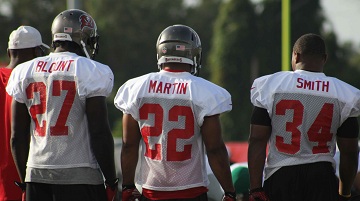 Oh, the drama of the battle between LeGarrette Blount and Doug Martin.
After today's first practice in pads, Greg Schiano said in response to a question about Doug Martin being able to handle a "bell cow" load that he had no concerns about that. "He's pretty rocked up," Schiano said of Martin, aka Muscle Hamster.
Schiano also said LeGarrette Blount looks good. And this is the same coach that stays away from calling out players by name positively or negatively to the press.
Schiano made it clear, though, that what fans saw today in quick-whistle 11-on-11 was not a good indicator. "Until they have to break a tackle," Schiano said, full evaluation is not possible.
Martin wowed the crowd a few times today with his quick cuts and burst, but it's just not meaningful yet. As Joe wrote earlier, Martin clearly looks better in pass blocking than Blount based on the few times each was challenged in that area. So he might have an edge right now there.