Homework Key For Leonard Johnson
July 19th, 2012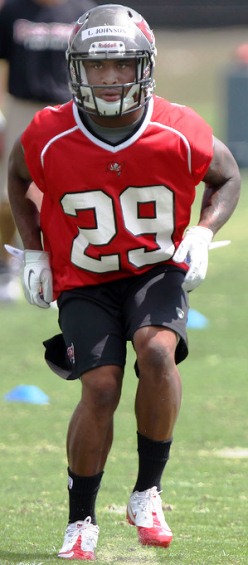 There is always a player or two that Bucs fans latch onto in training camp and preseason and hope makes the squad. Last year it was wide receiver Ed Gant, who racked up a bunch of yards against guys who are currently driving beer trucks, teaching high school and bouncing drunks out of bars.
If Joe is rooting for any rookie to make the team, it would be Leonard Johnson, for purely selfish reasons.
Joe got to know Johnson when he was the starting quarterback at Largo High School as a freshman. So Joe thinks it would be cool that a local guy who grew up with the Bucs, a guy Joe knew before Johnson could legally drive, could make the squad.
Always a studious guy, Johnson admitted he didn't have much of a summer vacation. The downtime between the last OTA and today Johnson spent hitting the books, specifically defensive playbooks and when possible, video.
"I did a lot of studying over the break to prepare myself so I can compete with all of the guys," Johnson said.
It wasn't just terminology and assignments that Johnson has learned in his short few months with the Bucs, but he has also learned how to be a Bucs player Johnson said.
"The most important thing is to be a professional, both on and off the field, most definetly off the field," Johnson said. "Just to be professional every where you go. Carry yourself like everyone knows you around town.
"It is good to come back out here and get acclimated to the heat, start learning terminology all over again and to be out there running around with the guys."