Bucs May Have Dodged Bullet
July 14th, 2012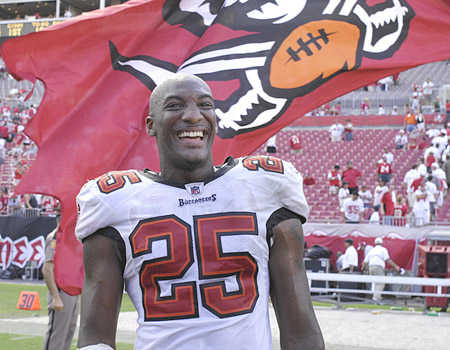 Yesterday, when the Bucs learned that felony DUI charges were dropped on cornerback Eric Wright, the collective sigh of relief heard originating from within the walls of One Buc Palace could be heard in southern Illinois.
Because of Wright's exoneration by Los Angeles authorities, the Bucs may have avoided a dire problem at cornerback, at ESPN's Pat Yasinskas sort of hinted at in a recent NFC South chat.
Weaz (Bay City)

Is Talib looking at a suspension this season? If so, how many games would be your guess?

Pat Yasinskas

Haven't heard much either way. Sounds like Talib and Bucs are planning on business as usual. But we'll see if NFL does anything.
Had Wright been found guilty of a felony DUI, he too would have also had to face the long arm of the law known as NFL warden commissioner Roger Goodell.
There is still no word on whether Goodell will pursue a suspension on Talib, which would be a multiple-game suspension since he would be a repeat offender.
Now Joe doesn't believe Talib should be suspended because charges were dropped; just like in Wright's case. But Goodell doesn't think like Joe.
Had Wright's charges not been dropped, the Bucs could have been facing the very real possibility of starting the regular season with E.J. Biggers and Myron Lewis as a starting cornerback tandem.