The Battle For The No. 2 Receiver
June 18th, 2012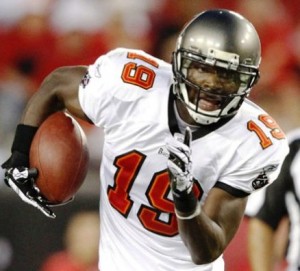 From the moment Bucs rock star general manager Mark Dominik inked free agent wide receiver Vincent Jackson, it seemed common knowledge Bucs receiver Mike Williams would go from No. 1 to No. 2 receiver.
In the aftermath of the Jackson signing, Bucs quarterback Josh Freeman all but bragged how defenses couldn't roll coverage to Williams any longer and asked rhetorically, "Who are you going to double now?"
But Dan Parr of ProFootballWeekly.com seems to believe Mike Williams playing opposite of Jackson as the No. 2 receiver isn't locked in.
Two third-year players are vying to start at wide receiver for the Buccaneers opposite marquee free-agent addition Vincent Jackson, and we hear there is no true front-runner for the job at this point. The Bucs are promoting a competition for the "Z" position and Mike Williams and Arrelious Benn will enter training camp, when the battle really could intensify, on a fairly even playing field.

The new coaching staff is not making promises to any of the contenders for the starting job and wants the best target to have the opportunity to emerge.

However, Williams, who has started all but one game over the past two seasons, and Benn are both expected to be involved in the offense no matter who starts. We also hear that Dezmon Briscoe, Preston Parker — who typically plays in the slot — and even Tiquan Underwood, who has only 11 career catches, also could get looks with the first-team offense at the "Z" position in camp.
True, under the New Schiano Order, Bucs coach Greg Schiano isn't promising starting jobs to anyone, and that is smart. Make players earn their keep, earn their jobs. After a gutless 4-12 season, no starter's job should be etched in stone.
But from everything Joe has seen and heard at Bucs minicamps and OTAs, and from talking to Williams himself, unless Williams completely melts down, playing the No. 2 receiver is Williams' to lose.