Staggering Bucs Statistic
June 1st, 2012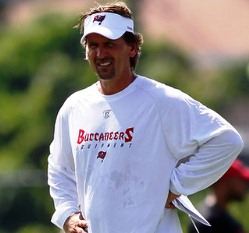 Keen readers of Joe know how, though he is also a baseball fan, Joe has nearly been driven away from the sport by the stat geeks.
Stats, when used with reason, can sometimes be enlightening. But the glut of made-up acronyms — all borne out of fantasy baseball — is mind-numbing if not distracting. The nonsense a couple of Sundays ago on a Rays TV broadcast where viewers were hit over the head with this statistical graffiti was worse than nuns belting students over the head with a pointer over an algebra lesson.
Joe had to turn the sound down and turn the radio on for relief.
Joe learned a long time ago, in high school in fact, that anyone can concoct any statistic they wanted to prove just about any premise.
Again, a stat can shed light on a subject when used correctly. This brings Joe to Greg Olson.
Joe had railed all last season, and still pounds his fist on the bar, about how underutilized LeGarrette Blount was last year. Yeah, Olson came up with all sorts of excuses not to give him the ball short of Mars is behind the moon.
But it wasn't just Blount, it was the entire rushing attack. In a story on how the Bucs want to really run the ball this season, eye-RAH! Kaufman of the Tampa Tribune unearthed a statistic so unnerving to Joe, he almost spit his coffee on his keyboard.
Schiano's predecessor, Raheem Morris, also stressed physicality, but the Bucs ran the ball only 346 times in 2011, the fewest rushing attempts in franchise history during a non-strike season.
Facepalm!
This little nugget right there may have been a major cause of why the Bucs tailspinned into their grotesque 10-game losing streak.
Josh Freeman was struggling. Mike Williams was struggling. Kellen Winslow was struggling. You had a guy in the backfield who averaged five yards a carry the previous season and a line built for run-blocking, but damn the torpedoes, we're throwing the ball, boys!
Sure, the Bucs were behind often so they had to throw the ball, Joe gets that. Notice this record was not set in 2009 when the Bucs won a grand total of three games, were behind terribly in most of those games, and had no rushing attack to speak of.
And people wonder why Olson was fired?