Lynch Recalls Kiffin's "Tedious" Fundamentals
June 17th, 2012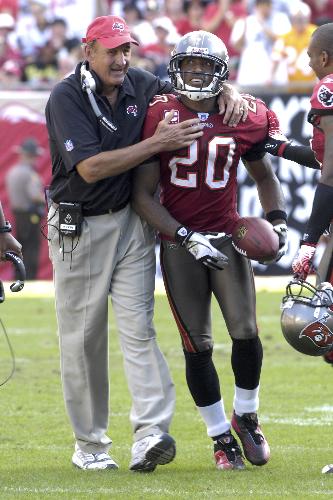 The leader of the New Schiano Order is obsessed with fundamentals, details and everything else he can control. And Greg Schiano is proud to lead in this fashion.
Control what you can control, Schiano says, and staying on top of those details gives you an edge. But Schiano is a realist. Speaking on Mad Dog Radio on SiriusXM last week, the Bucs head coach was quick to say he's learned through his long college coaching career how to delegate and trust the people in his organization and he's not a micromanager the way many might imagine.
But his obsession with fundamentals on the field is clear to all, even Bucs icon Ronde Barber who's seen more than most since he was drafted in 1997. Woody Cummings, of The Tampa Tribune, documented Barber's perspective and checked in with John Lynch, who recalled Monte Kiffin pressing daily fundamentals.
"Everybody talks about fundamentals, but [Schiano] hammers it," CB Ronde Barber said. "We get fundamentals every day. He's definitely a teacher and that's a good thing. He takes that coach moniker to a whole other level."

… The constant attention to fundamentals can be annoying.

Former Bucs defensive coordinator Monte Kiffin ran a daily cone drill to remind players of their gap assignments that one-time Bucs S John Lynch described as "tedious." Lynch also described the drill as invaluable because it produced muscle memories that kicked in naturally on game days.
Joe hopes the Bucs' defense can craft some of this muscle memory in time for opening day. Instinctive tackling, guys in gaps, and great hand technique at the line of scrimmage would be glorious to watch. Joe has almost forgotten what that looks like.