Charges Dropped On Aqib Talib
June 18th, 2012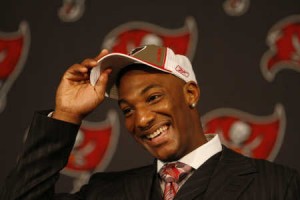 It's official per the Dallas County court system, case number F1126192, State vs. Aqib Talib, was dismissed today in advance of Talib's scheduled trial date next week.
That means the state's felony assault with a deadly weapon charge against Talib is gone.
Perhaps the State took a look at the motion filed by Talib's legal team on June 7 and realized they had no shot? Or perhaps Talib's accuser changed his tune, as often happens in cases that involve domestic violence?
Joe will update more as he secures more data. But now Talib is free and clear and must only wait to hear from Roger Goodell, if the commissioner chooses to pursue scouring Talib's soon-to-be-closed case file for reasons to suspend him. Also, Joe can't wait to read what some loyal JoeBucsFan commenters who were so confident in the state's flimsy case against Talib will have to say.
This is a great day for the 2012 Bucs.