Bucs Get An "A"
June 21st, 2012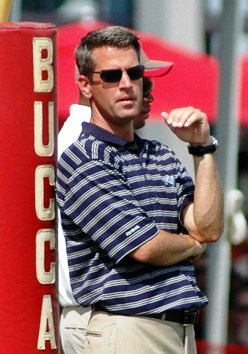 The skeleton of a football season is usually constructed in the offseason. If a team succeeds in the offseason, devising offenses and defenses and ways to get the most out of players' talents and skills, then that often translates into success in the fall.
With that premise, Vinnie Iyer of The Sporting News believes the Bucs will have a solid season. He gives the Bucs the highest offseason grade of any NFC team with an "A."
GRADE: A
Tampa Bay Buccaneers

Key additions: WR Vincent Jackson, G Carl Nicks, RB Doug Martin, TE Dallas Clark, CB Eric Wright, QB Dan Orlovsky.

Key losses: TE Kellen Winslow, QB Josh Johnson, S Tanard Jackson.

Josh Freeman needs to break out of his slump, and having a bona fide No. 1 receiver in Jackson is a huge boost. He'll also get more consistency in the running game with Nicks blocking for the versatile Martin. Clark is a good replacement for Winslow as Freeman's security blanket. Meanwhile, Wright will start at cornerback, where Aqib Talib—recently cleared of an assault charge—will join him. The attitude adjustment brought on by Schiano's hiring will help get the Bucs back on track.
Yes, of course, whether the Bucs taste a playoff berth will likely come down to how well Freeman bounces back from an ugly 22-interception season. That will be the key factor.
If Joe had to quibble with this analysis, Joe doesn't exactly know how you can classify a backup quarterback who has yet to win a game as a starter (and is now a No. 3 quarterback with the Niners) as a "key loss." To be fair to Johnson, Joe cringed reading his name lumped in with Jackson and Winslow.