Myron Lewis' Last Chance
May 30th, 2012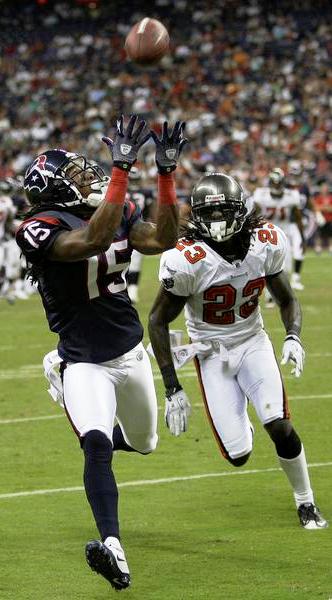 Most Bucs fans, and Joe is sure quite a few players, are still reeling from the grotesque 10-game losing streak that closed the season last year.
Just the thought of it makes Joe want to eat a mouthful of Tums.
One reason for the hideous slide that cost Raheem Morris his job was that the secondary was roasted better than a rack of ribs on a grill last weekend.
A player the Bucs had high hopes for, Myron Lewis, was thought to have fought for significant playing time last year, but that didn't happen. This has not been lost on ESPN's Pat Yasinskas, as he typed about Lewis in a recent ESPN NFC South chat.
Chris (Land o lakes fl)

Pat what ever happened with the development of Myron Lewis.Wasn't he a stud at Vandy???

Pat Yasinskas

Apparently, not much has happened with his development.
Well, part of the reason that Lewis hasn't developed is he cannot stay on the field due to a myriad of injuries. How exactly is a player supposed to improve if he cannot practice much less log crucial playing time?
When Lewis does play, he often gets torched. He is still green.
Like sackless Kyle Moore last year, Joe's of the opinion this is a do-or-die year for Lewis in a Bucs uniform. If he gets hurt (again) in preseason, he may just as well start looking for another team.