Mike Williams Is Not Michael Clayton
May 30th, 2012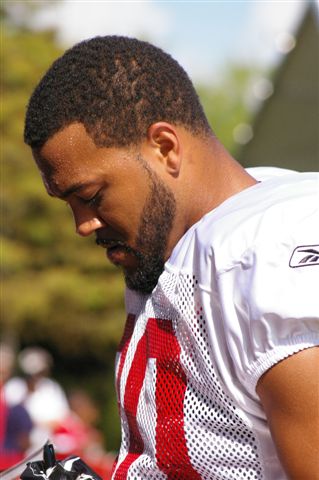 Last season, Mike Williams wasn't the reciever he was during his rookie campaign of 2010.
For reasons unknown, a long list of Bucs were in a similar boat, losing a notch or two from their games in 2011.
Williams had 65 catches in 2010 and 65 in 2011, but he didn't find the end zone as much and his yards per catch fell from 14.8 to 11.9. Chalk it up to some combination of more attention from defenses, fewer slant passes, Josh Freeman not being as sharp, Williams battling injuries, and the general disease that affected most Bucs and led to the heinous 10-game losing streak.
But what's been amazing to Joe over the past several months is to hear how so many fans think Williams all of a sudden sucks and somehow his game dropped by epic proportions.
During a live TampaBay.com chat yesterday with columnist Gary Shelton, one fan even dared to compare Williams dropoff (of zero catches mind you) to that of blocking icon/one-year-wonder Michael Clayton.
Comment From Platypus
I'm going way back here, but how do guys like Michael Clayton and Mike Williams fall so far so fast after a good first season?

Shelton: Clayton had such a good first season largely because the Bucs had no one else to throw to. It made him look better than he was. Williams got a lot more attention in year two, and his quarterback wasn't as sharp.

I still think Williams can be a fine pro.
First, Joe must say he disagrees with Shelton's discounting of Clayton's great rookie season in 2004.  Joey Galloway, Joe Jurevicius and Tim Brown all caught passes during Clayton's best game of that season. That qualifies as nobody else to throw to? Clayton had one great year. No need to undercut his accomplishment.
Regardless, Joe wants it clear that Williams is still a mad talent coming off a "bad" season in which he caught 65 balls. That's not too shabby. Joe's far more confident that Williams will deliver a bounce-back season in 2012 than Josh Freeman.