Draft Party Mania To Include Steve White
April 22nd, 2012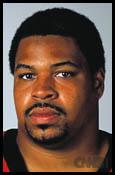 Yes, the Bud Light girls will be in the house for Joe's absolute blowout of an NFL Draft party at Pete & Shorty's onThursday. But the evening is not just about beer and girls and the jerseys Joe will be giving away, it's really about hardcore football fans gathering for serious draft fun and analysis.
Justin "The Commish" Pawlowski will broadcast live at the party on the 1010 AM airwaves breaking down every draft happening, and former Bucs defensive end Steve White (1996-2001) will be in the house joining Justin at times on the air and simply enjoying himself among fans. 
White is hands-down one of the most astute Bucs and NFL analysts around. Many of Joe's readers became addicted to his Bull Rush column on JoeBucsFan.com and on White's personal blog. Joe has warned Steve that he can't protect him from the Internet groupies that might harass him, but Steve is not concerned. So if you ever wanted to buy Steve White a beer or shake his hand, the draft party is your chance.
Joe's hoping to announce other special attendees in the coming days.