Blount Among The Missing On Day 1
April 2nd, 2012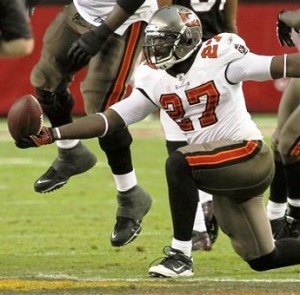 Joe knows it was "voluntary" meeting sessions for Buccaneers at One Buc Palace today, the first day of the Greg Schiano era when he could finally talk football with his players and coaches could get them in a classroom. But Joe has to raise an eyebrow at any player that didn't show up.
LeGarrette Blount was one of those guys, so Schiano said on NFL Network tonight.
Yeah, Joe realizes that players have real lives, and families, and life gets in the way sometimes. And Blount also was one of a small handful of Bucs in attendance at Schiano's introductory news conference back in January. But Joe has to file this Blount absence away as a possible red flag.
Apparently, Blount wasn't injured and off rehabilitating somewhere.
"He had a previous engagement. So he was unable to be with us today, but he informed me of that," Schiano said.
Video mastermind Scott Smith, via Buccaneers.com, characterized attendance as a "full house" and "almost the entire roster" was there. And Adrian Clayborn told Smith of Day 1, "I think we just missed a couple of the guys on defense and it's real good to know that everybody's going to start to buy into what they're talking about."
Joe hopes Blount is there tomorrow learning the ropes from Earnest Byner and keeping Mossis Madu company, the only other running back on the roster.