Bills Looking To Deal
April 26th, 2012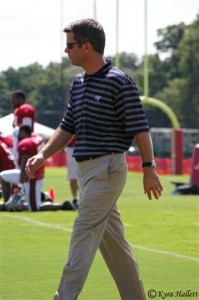 At 64 years old following a distinguished career as a general manager, Charlie Casserly is not a guy Joe suspects would concoct trade rumors or fall for agent-driven, team-driven BS the day before the NFL Draft. 
Therefore, Joe brings you Casserly's Twittering yesterday that claims the Buffalo Bills are looking to trade up from their No. 10 pick to get in position to draft offensive tackle Matt Kalil.
@CharleyCasserly – Buuffalo I am told would like to trade up to take Matt Kalil and will give up a second rd draft choice to do it.
Buffalo's second-round pick is No. 41 overall. If the Bucs found themselves in this position, with Kalil still on the board, it would be an intriguing deal indeed. In this scenario, the Bucs likely could still snag Luke Kuechly with the 10th overall pick, and two quality second-round picks to bolster their secondary and/or snag running back Doug Martin.