Ron Turner Is Your New Bucs QB Coach
March 4th, 2012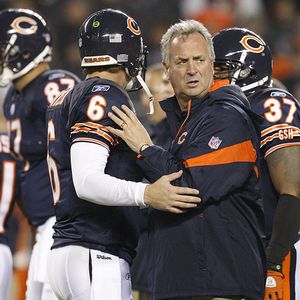 That Dave Wannstedt pipeline to the Bucs continues.
The Bucs have filled the last major hole in their coaching staff, so says Alex Marvez of FoxSports.com. And it's with a guy who the Bucs strongly considered (and thankfully, dismissed) for the offensive coordinator job, former Bears offensive coordinator and Illinois head coach Ron Turner.
The brother of San Diego coach Norv Turner, Ron Turner's greatest claim to fame as an offensive strategist was developing the immortal Kurt Kittner.
Ron Turner held the same position last season in Indianapolis. The 58-year-old Turner spent the past two years with the Colts after serving as Chicago's offensive coordinator from 2005 to 2009.

Freeman entered the 2011 season regarded as one of the league's rising passers, but he regressed with 16 touchdowns and 22 interceptions as the Buccaneers finished 4-12.
Joe isn't blown away by this hire, unless of course Rex Grossman's tenure as quarterback of the Bears is looked upon as a shining beacon of light.
But at this late stage with the Bucs and Greg Schiano having doors slammed in their faces at virtually every turn in order to find assistants, the hire could have been worse.