Sullivan Should See The Difference
February 13th, 2012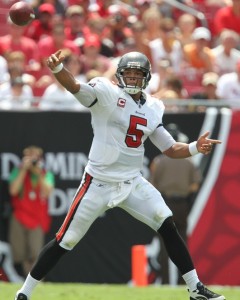 Former Bucs QB Jeff Carlson is encouraged about what the hiring of offensive coordinator Mike Sullivan could mean for Josh Freeman.
Simply put, Carlson has no love for Josh Freeman's mechanics and, during an interview on PrimeTime on WHBO-AM 1040, Carlson said Eli Manning's mechanics are so sound that Sullivan should recognize the contrast as he studies the Bucs' franchise QB. Sullivan was Giants quarterbacks coach for the past two seasons.
However, Carlson, a longtime quarterbacks coach and JoeBucsFan.com analyst, makes no guarantees that Sullivan is a mechanics guy and will recognize Freeman's troubles. Alex Van Pelt didn't get it done and should have, Carlson explained.
Joe's got the audio with all the specifics. Just click the fancy arrow below.
Audio clip: Adobe Flash Player (version 9 or above) is required to play this audio clip. Download the latest version here. You also need to have JavaScript enabled in your browser.