Was Schiano Mark Dominik's First Choice?
January 27th, 2012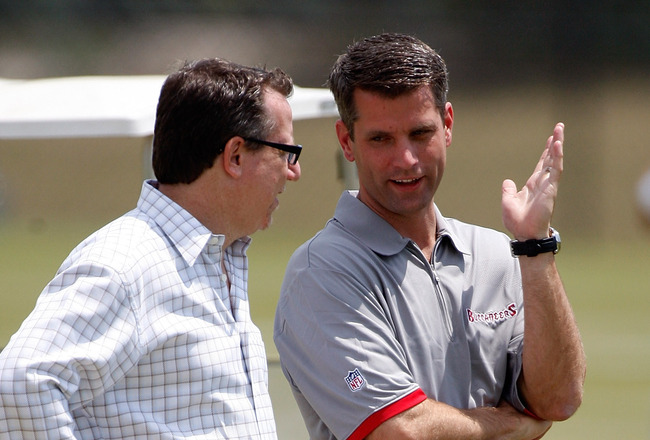 Rockstar Bucs general manager Mark Dominik previously has talked publicly about how he's a defense-first guy. So when the Bucs offered offensive guru Chip Kelly a pile of cash, Joe wondered how Kelly might have wowed Dominik with his defensive plan for the Bucs.
Or perhaps Kelly wasn't Dominik's first choice? And that's where Joe's money would go now if Joe were to wager on the question.
Speaking today on The Dan Sileo Show on WDAE-AM 620, Dominik shared lots of thoughts on the Schiano hire, including calling himself a "defensive fundamentalist" and explaining that even in the high-flying NFL he believes defense is still king.
"I'm a "defensive fundamentalist" always have been and it's because I've been around the likes of Marty Schottenheimer, Monte Kiffin and Tony Dungy. And that's all just made sense to me," Dominik said. "That's how you get there.That's how the Baltimore Ravens, you know, get to be a consistent football team. That's how the Giants are in the Super Bowl again. I just see that that's the way it works."
For those unaware, Schiano is a defensive guy. In fact, Dominik called Schiano "a 4-3 fundamentalist" who has a lot of Dick LeBeau and Monte Kiffin in him.
So did Dominik really want Schiano? Keep in mind the Bucs met with Schiano before they offered a job to Kelly and this was Dominik's first impression of the former Rutgers head coach.
 "The first initial meeting with him there was a presence right away when you walked in. The first thing I thought, 'this guy's a football coach,'" Dominik said. "I had never met him officially before. But the only thing I felt was, 'Gosh, this guy, this guy's a football coach.' And I love that. And it just felt so right to have a guy with his kind of demeanor and serious attitude, and then knowing how bad he wants to coach back in the National Football League made this a great hire I think for our football team right now."
Goodness, Joe almost felt like he was listening to the makings of a country song when Dominik shared that moment.
So who's going to run the offense and lead Josh Freeman? Dominik said the Bucs will take their time hiring assistants. Dominik emphasized that there's less time pressure with the free agency period starting later this season.