The Dominik-Schottenheimer Connection
January 10th, 2012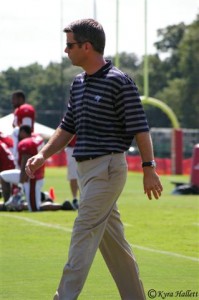 As notorious winner/choker Mary Schottenheimer/Chokenheimer sits down with Team Glazer and Mark Dominik to talk all things Bucs football and head coaching today, Joe is lost in wonder at the what the history is between the rockstar GM and the head coach who consistently takes his teams to playoffs but stumbles in big games.
Dominik was a youngster entering the NFL with the Chiefs when Schottenheimer was head coach there. Joe suspects the two had some sort of interaction back in the day that left a positive, indelible impression on Dominik, who has spoken fondly of the relationships he formed in the Chiefs organization.
Perhaps it was Dominik that reached out to Schottenheimer for the Bucs gig? Joe has no clue. Perhaps the 68-year-old coach told his agent to "call the eager kid that used to fetch my game film." Again, Joe's just guessing.
But if the old guy wants to return, and the Bucs are set on scoring a proven leader with a pile of gravitas who can also build a coaching tree (Tony Dungy, Bill Cowher and Herm Edwards coached under Schottenheimer), then Joe's hard pressed to think of a better candidate in that mold.