Dominik's Headset Isn't Just For Listening
December 20th, 2011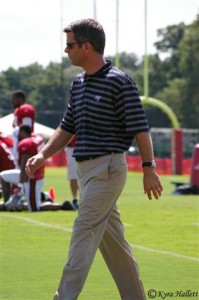 Bucs fans and the nation saw rockstar Bucs general manager Mark Dominik wearing a headset in a sky box during the Bucs-Cowboys game on NFL Network on Saturday.
Listening to sports radio this week, Joe has heard many fans wonder aloud why Dominik is doing such a thing, and even Bucs beat writer Rick Stroud was on The Fabulous Sports Babe Show on WHBO-AM 1040 today saying he had no clue why Dominik would wear a headset, and then Stroud whined about not having access to the general manager to ask him.
Allow Joe to shed some light.
First, Dominik routinely wears a headset. In fact, he's an active participant and in communication with coaches. Raheem Morris talked about it on his radio show on WDAE-AM 620 back in November. The head coach was asked about whether he knew about Saints being down several live bodies in their secondary. And Raheem explained that he's getting a steady flow of personnel information from his eyes in the sky.
Raheem Morris: We do a great job of in the box of handling a lot of that stuff. You know, Mark Dominik's on with us. He tells us exactly what's going on up there. We got our trainers, Todd the trainer, all our coaching staff is the box to see what's going on and how many players they got what, who's going out when, and who's coming back in and all that kind of stuff. We get a bunch of information over the sets.
Also, just two weeks ago, eye-RAH! Kaufman of the Tampa Tribune noted how he spotted Dominik walking out of the coaches' box during the curb-stomping at the hands of the Panthers. Additionally, it was Morris who admitted he spoke with Dominik in the middle of the game when the Bucs played the Patriots in London, letting Dominik know he was putting in Josh Freeman in his first NFL action.
Joe gets that some fans and media will have a knee-jerk reaction to this information about Dominik, something like, 'what the hell kind of power trip is Dominik on to be meddling with his coaches during games?'
But the reality is that if Dominik knows the playbook and is supposed to be constantly evaluating talent, then he should have a headset on to know what play is coming next so he can most effectively scout the team.
As for Dominik communicating to coaches during games, one can speculate all day long, but there's no way to know the depth and scope of the communication. Only the guys with the headsets know that.
Joe has done research in the past six weeks on whether this is common practice among NFL general managers. Joe's gotten a wide range of answers, so Joe really can't offer an intelligent take on that.
One thing is clear, though; Dominik is extremely hands-on.