Dominik's Annual "This Is Our Team" Speech
October 21st, 2011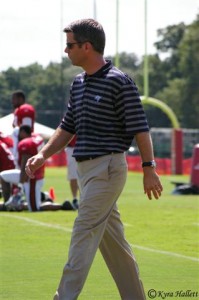 The build-from-within, build-through-the-draft Bucs company line isn't just for the media, so says Ronde Barber. The Bucs icon gave a heartfelt explanation on the Buccaneers Radio Network on WDAE-AM 620 Wednesday night.
Host Dave Moore was talking about communication and how players need to hear it straight in the NFL from coaches and management, a situation Moore said is rare around the league.
Barber assured Moore that Raheem Morris and rockstar general manager Mark Dominik foster that kind of functional family environment.
"At the beginning of these past two seasons, and we've never done this, but Mark Dominik gets in front of the team and, you know, we go through the process in training camp and an offseason of getting guys in the offseason on this football team, and we're going to build our team with the guys we have in the room. And both these past years, Mark gets in front of everybody and says, 'Hey, this is our team. We're not looking to get other guys' free agents that get cut, or looking for trades. These are the guys we want in here. We believe all you guys can play.' And so everybody goes out with that attitude that, you know, they're part of this.

"Raheem does a great job in the preseason talking about just 'Get the Shield. Make a team. And if you're here, you're here." And guys really embrace that, man. It's a great environment to be around. We can talk about it, but you really can't feel what it's like to be part of this family unless you're in our locker room. … Believe me, everybody here loves this situation. I don't think to a man, coaches, players, would care to be anywhere else."
Joe got all fired up for Sunday listening to Barber, especially when you think about all the off-the-field shenanigans swirling around the Bears — Matt Forte moaning about his contract, Jay Cutler's language, etc.
Whatever's going on inside One Buc Palace, it's healthy for the team on the field. How else does a beat up team bounce back like it did from an epic beating in San Francisco?