"Guys In Locker Room" Want Barrett Ruud Back
July 28th, 2011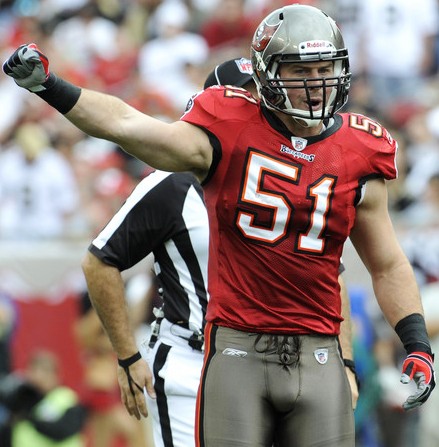 Now in the near-three years Joe has been banging out Bucs copy and content since launching this site — not one day missed; not one! — Joe has made it abundantly clear how he feels about the satanic cable syndicate known as Out House Networks.
Let Joe be even more clear: it is the suits that Joe hates there, not the people. Some of the folks who work for Out House Networks are some of the coolest in the business, whether it be Rock Riley or Victoria Lim or J.B. Long, to name a few. Nicer people one would be hard pressed to find.
This beef is not about the people that work there, but the corporate suits. It is the suits who brazenly have decided to deny innocent area citizens the want, desire and the need to enjoy the NFL Network, yet it is these same scoundrels who have decided to ram every friggin' vapid shopping channel in the free world down the throats of the littles along with other schlap, including a "news" channel that features such internationally-compelling stories such as a new swing set in the Brandon city park, a new culvert being installed along Starkey Road in Largo and the temperature every 10 minutes just in case you forgot how hot it was 10 minutes ago.
It is simply an outrageous practice and some right-thinking politician would be warranted to launching a congressional investigation into this shady if not elicit unethical practice.
Tomorrow, Joe will feature some of the best Twitterers to follow for Bucs news and there are few local guys better at bringing you tidbits of sports information than Long. Today, he had an interesting nuggett as the Bucs reported for training camp.
It seems the absense of starting middle linebacker Barrett Ruud has created a degree of unrest among his former (?) teammates and in fact soft-spoken tight end Kellen Winslow spoke up in defense of Ruud.
@JB_Long: Bucs Winslow says it would be very disappointing to see Ruud leave. Team leader. Guys in locker room want him back.
Look, Joe thinks the world of rock star general manager Mark Dominik. But starting a third round college outside linebacker in the middle and calling defensive plays, a young man who has had a grand total of zero reps with the Bucs defense and the opening regular season game a scant five weeks away, well, this shakes Joe to his very core with fright and dread.
Joe has learned to trust Dominik. But this move is really testing Joe's allegiance.