Winslow Says Talib Necessary To Win Super Bowl
June 3rd, 2011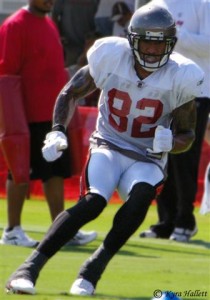 Love and support for Aqib Talib keeps pouring in from all angles. (Joe will have more on that tomorrow.)
The latest comes from Kellen Winslow, Jr., the Bucs' leading receiver each of the past two seasons. He had a chat with NFL.com before appearing live on Total Access tonight. For those with Outhouse Networks cable television, Total Access is the NFL Network's nightly show.
In the extensive NFL.com Q & A, Winslow was asked about Aqib Talib and explained that Talib is the second most important player on the Bucs.
Bucs CB Aqib Talib is in the middle of a tumultuous offseason. How important is he to your team?

KW: We need that guy to win. Talking about Super Bowls — we need him really more than anyone besides Freeman. He's that good. He locks down receivers. He's got to iron out what he's got to iron out, but we need him as much as anybody.
Now Joe has written before that the Bucs don't need Talib. They had success without him and he's unreliable at best.
However, Winslow's point is clear. Talib is a massive talent, and the Bucs need him to completely — not partially — straighten out his act. Joe believes Talib will get one more chance in Tampa, despite the St. Pete Times' unsourced and unwavering claim that the Bucs have already decided to cut him.