Aqib Talib's Innocence Or Guilt Not A Factor
April 26th, 2011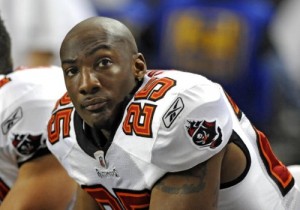 The Tampa Bay area is still buzzing over the bold pronouncement by Rick Stroud of the St. Petersburg Times that troubled Bucs cornerback Aqib Talib is as good as gone when this labor mess is resolved.
Given the fact the NFL is — tentatively, barring further legal action — open for business, this would mean that Talib's tenure as a Bucs player is in its final hours if Stroud is accurate.
Many Bucs fans erupted in outrage with Stroud, largely because he never quoted a source, not even a confidential source in the story. Fans were so enraged, Stroud's colleague good guy Stephen Holder even had to come to Stroud's defense.
It seems as if Holder will have reinforcements of sorts.
BSPN NFC South blogger Pat Yasinskas has come to Stroud's aid as well. Typing for the Disney syndicate, Yasinskas explains that no matter what a judge or jury may find in Texas, Talib has already been sentenced at One Buc Palace.
Rick Stroud writes that troubled cornerback Aqib Talib is all but gone from Tampa Bay. I agree and have been saying that since Talib was charged with a crime in a March incident in Texas. Yes, the legal system hasn't played out and there is the chance Talib can be exonerated. But the mere fact Talib, who has a long history of off-field problems, was even involved in an incident with a gun didn't exactly flatter the NFL or the Bucs. The only thing remaining is sorting out the exit strategy. The Bucs can't do anything until after the lockout. If they don't cut or trade Talib right away, the NFL could beat them to the punch and suspend Talib.
Now Joe knows there is a segment of Bucs fans upon reading the previous paragraph will slam their cups of coffee on the breakfast table so hard they will have to change their wardrobe for the workday. But here is an element many Bucs fans either don't know or tend to forget:
In the court of NFL warden commissioner Roger Goodell, evidence or guilt are not factors in any way. Just the fact that Talib was present where gunfire was discharged and a man was (allegedly) pistol whipped is enough for Goodell to hammer Talib with an ugly suspension, which is largely expected.
Remember that Tanard Jackson was never charged and never found guilty by any Florida police agency or legal authorities. Yet his NFL career is hanging by a razor-thin string after multiple suspensions.
If Talib is jettisoned by the Bucs, there is no need to blame Team Glazer or Bucs rock star general manager Mark Dominik nor coach Raheem Morris.
The blame, in the end, should lay at the feet of Talib.