Some Background On Mason Foster
April 29th, 2011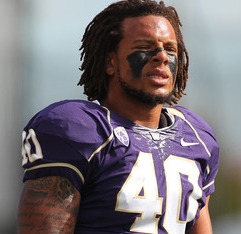 Now Joe is not an NFL scout, though he prides himself in scoping young, tanned, skin-baring, nubile lasses at top shelf watering holes.
But just eyeballing Bucs third round draft pick outside linebacker Mason Foster, some things jump out at Joe:
1) He can shed blocks. Against damned good blocking teams as well.
2) Seems like a helluva athlete. Quick, good feet, solid hands. Here's a look at his combine drills.
3) Has ball awareness. Just check out this video of a game-winning interception return against Arizona. Oh, one could call that clutch as well.
4) It appears Foster is a tweener. He can play in a 34 defense or as a SAM in a traditional 43. It seems hybrid defenses are not just the future of football, but the now. So Bucs rock star general manager Dominik is playing this one smart.