GMC Talks Raheem, Freeman, Williams And More
April 19th, 2011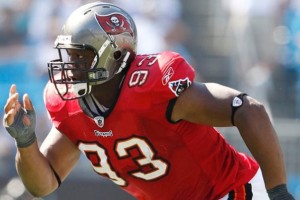 Yesterday, Bucs defensive tackle Gerald McCoy sat in for a segment of "Total Access" on the Lifetime Network for Men (the NFL Network). One of the things GMC spoke about what the atmosphere and mentality of the Bucs the first day he walked into One Buc Palace after being the third overall selection.
"When I walked in, I would have never known they didn't have a good season the year before," GMC said. "Coach Morris immediately told me, 'We are going to be good. I picked the people I picked for a reason.' It was always 'We are going to be good.'"
GMC also spoke about many other subjects, such as if current draftees should go to New York for the NFL draft, a sore spot for NFLPA members, and just how good Josh Freeman and Mike Williams are as players.