Chris Hovan Not Impressed With Cam Newton
April 25th, 2011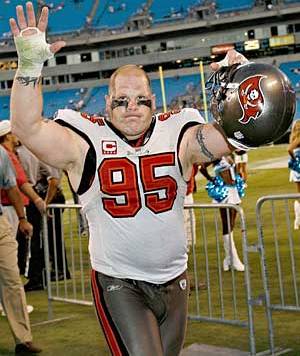 As part of his explosive appearance last week on "Happy Hour with J.P." heard on WQYK-AM 1010 with electronic media czar J.P. Peterson, former Bucs defensive tackle Chris Hovan also tackled the subject of Auburn quarterback Cam Newton, who is rumored to be drafted by NFC South foe Carolina first overall.
Also last week heard on local radio airwaves, Mike Florio, the creator, curator and overall guru of ProFootballTalk.com, during his regular weekly appearance with Joe's good friend "The Big Dog," Steve Duemig, of WDAE-AM 620, said he wished he could see what was left on the cutting room floor of Chucky's grilling of Newton in what appears to be a vacant Clearwater office turned film room for BSPN.
In Chucky's episode with Newton, Chucky asked Newton to call a play in a huddle using some of the most complex verbiage used at Auburn.
Newton couldn't do it, replying after thinking for a period of time, "You're putting me on the spot."
Few are aware that one of the people not shown in the video who was in that very  room at the time of the taping, lurking in the background, was Hovan.
Hovan described his impression of Newton from Chucky's session.
J.P. Peterson: You were there with Gruden when he did his chalktalk, kind of in the background…

Chris Hovan: Right.

J.P.: … you said the other day that you were just not impressed with Cam's intelligence and that he wasn't very quick-witted which I am guessing has to be an absolute necessity for a quarterback in the NFL.

Hovan: It is. I mean, if you look at all the top flight quarterbacks, the Peyton Mannings and Tom Brady, they are so systematic when they play football. They know how to read coverages. The first and second audible or the third audible, where to go when the defense presents looks to them. And I don't feel in a pressure situation that Cam can make those checks right now. If he was under Jon Gruden, if Jon Gruden was his head coach, he would definitely red shirt. If you are going to put him out there — first of all, Carolina's offensive line, they pretty much only have Jordan Gross right now. He's a left tackle and was drafted in the first round. If you put him in there with a suspect offensive line you are going to get the kid killed. Yeah, he can run…

J.P.: And he will be running.

Hovan: … but you can only run for so long. They are going to hunt this kid down. I don't feel he is ready for the NFL level yet. Does he have the intangibles? Athletically, yes he does. But this is just a complex game when you go to the NFL level, especially at the quarterback position. You have to be ready to make those checks at the line of scrimmage. I don't feel like he is ready for that yet.

J.P.: Now what kind of sense do you get from him as a leader? You have been in many, many locker rooms. You have played with many quarterbacks. You can name them. Some good ones and some bad ones. Did he have that quarterback intangible that you have to have where guys are going to run through the wall for you, they feel like you are the man and you will take us to the promised land. Did he have that charisma?

Hovan: No, I don't really — he has charisma. J.P. The only thing I have a problem with was when he called himself an icon. You are not really iconic yet my man. Yes, you played one year at Auburn and won a national championship but you played one year. It's enough to raise his draft stock but at the same time that does not make you ready for the NFL. You are not iconic yet. Peyton Manning is iconic, Tom Brady is iconic. Why? Because Tom Brady won three Super Bowls. Peyton Manning won a Super Bowl but he has always been in the hunt. For him to put himself out there and say that he is something that he is not, I do have a problem with that and he's' going to have a problem with that when he walks into a locker room. He's going to have to go in there and earn the respect of his team. I just don't think you need to be saying words before you produce.
Joe wishes Hovan would have given some other examples, but it was interesting to hear from someone in the same room as Newton and Gruden when this session was taped that sort of reinforced what others thought when Newton couldn't answer a simply question from Chucky — didn't even try to answer.
Newton was a sick quarterback in that dime store spread-option. The history of quarterbacks in the NFL succeeding in that spread-option is thin. Aaron Rodgers is one of the few Joe can think of (Sam Bradford is another) and how many years did Rodgers sit on the pine learning an NFL offense before the Packers got sick of Brett Favre's drama?