Aqib Talib Proves NFL Has Double Standard
April 24th, 2011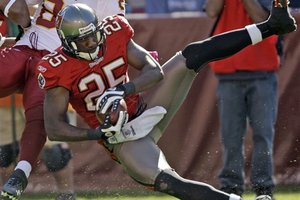 The tirade from Chris Hovan Thursday against the Bucs and specifically, troubled cornerback Aqib Talib, brought up the subjects of double standards in the NFL.
Even Hovan pointed out that if Talib wasn't a stud he would be gone by now.
It seems Vic Carucci of NFL.com picks up where Hovan left off, describing double standards in the NFL.
Talib's talent, as Hovan pointed out, "goes through the ceiling." If the Bucs were to cut him, another team would pick him up in a blink. He might bring along his penchant for finding trouble off the field, but he also would bring along exceptional skills that can help a team win.

General manager Mark Dominik, coach Raheem Morris and the rest of the Bucs' decision-makers undoubtedly consider that any time the notion might arise — if it ever arises — to part ways with Talib.

It looks as if he'll just continue to be one of those guys who gets two hamburgers at lunch … until the day comes when his play no longer warrants special treatment.
While Carucci — a good guy who has taken time to help Joe from time to time — makes a lot of sense, the analogy he makes in his column is absurd. He tries to compare Talib's sometimes criminal, always violent, acts to Buffalo Bills former star Bruce Smith skipping training camp.
Last Joe checked, one cannot get arrested or thrown in jail — or worse, sentenced to prison — for blowing off two-a-days. Nor does NFL warden commissioner Roger Goodell suspend people for dodging practice.
This is the salient point of all this Talib nonsense: No matter how talented a player can be, he sure as heck cannot help a team in any way sitting on his couch in Texas (or his luxury box at The CITS) watching games on TV while serving a multiple-game suspension.
And when other, younger Bucs players perceive the organization as looking the other way on Talib, might they also start taking liberties outside of team rules and policies as well, knowing there are minimal ramifications?