Looks Like Josh Johnson Is Here To Stay
March 26th, 2011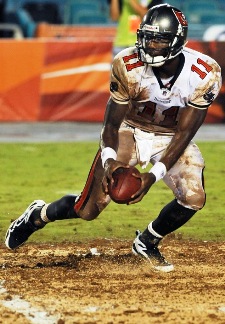 When the 49ers hired Jim Harbaugh to run the team back in January, many Bucs fans began to connect the dots that the 49ers would trade for Bucs backup quarterback Josh Johnson because Johnson started for Harbaugh when the two were at San Diego.
That notion flew in the face of Raheem Morris' contention that Johnson is a "career backup."
But it seems Raheem likes Johnson so much that there's no chance of Johnson getting traded or being usurped by another backup, so claims Disney blogger Pat Yasinskas.
Typing for the Leninites at BSPN.com, Yasinskas claims the Bucs have no interest in acquiring a QB to replace Johnson of the depth chart.
Dylan (Las Vegas)
Pat, any chance the Bucs try to get a verteran [sic] QB as a backup to Freeman?

Pat Yasinskas
I'd like to see that. But my impression is that Raheem likes Josh Johnson a lot, so I don't think anything will happen.
Could it be that Raheem, in an effort to quash any interest from other teams in Johnson, called Johnson a "career backup" last year on purpose? Joe thinks it is a possibility.
But Joe can't believe rock star general manager Mark Dominik wouldn't want to get a veteran backup — you know, a guy who may have played a handful of games — to at least be a No. 3 signal caller.
No one wants to see the Bucs third string quarterback on the field unless it's special teams. But if a game ever came down to that, who would you have more faith in, Rudy Carpenter or, say, Brady Quinn or (shudder) Kyle Boller or (gasp) J.P. Losman?