Bucs Wouldn't Feel Pinch Of Releasing Aqib Talib
March 29th, 2011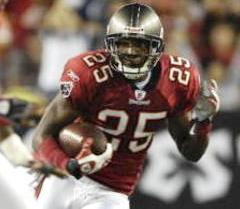 In a bold, thoughtful and compelling post, Pat Yasinskas, working for the Disney syndicate better known as BSPN, seems to agree with Martin Fennelly of the Tampa Tribune that the Bucs should rid themselves of the perpetual legal headache that Aqib Talib seems to have become.
Yasinskas spells out how cutting Talib wouldn't be much of a pinch at all financially for the Bucs, and the saved cash could be used to bolster other positions on the defense, including cornerback.
And there's one other reason why it would be easy to simply cut Talib — and don't underestimate the importance of this. It would be financially painless.

Talib presently is scheduled to earn $1,653,750 in base salary in 2011. He's also got escalator and incentive clauses that could boost his $1,852,5000 base salary in 2012. At the moment, his scheduled salary-cap figure for 2011 is $1,953,750.

If the Bucs cut Talib, they take a $600,000 cap hit for outstanding signing-bonus proration, but they would free up $1,353,750 in salary-cap space.
Joe really didn't factor in the financial ramifications of turning loose Talib — who is now cooperating with authorities — for his multiple violent transgressions.
Two things we all have to wait on to see what the Bucs do with Talib, if anything. One of course is if Texas authorities charge Talib with anything. Second will be the new CBA. Until the CBA is signed, Talib's spot with the Bucs is safe.