More Numbers To Suggest Freeman Still Learning
July 4th, 2010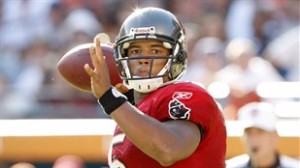 Earlier today, Joe brought you news that Sirius NFL Radio's Pat Kirwan suggested Bucs quarterback Josh Freeman (among other NFL quarterbacks who will start a full season for the first time) will struggle this year.
Some of Joe's readers mocked Kirwan for such a stance. But on NFL.com, Kirwan document his research that led to his conclusion. Kirwan emphasizes this is not a knock on Freeman, but to note that it — with rare exceptions — takes time for a quarterback to learn the NFL game.
After looking at 30 quarterbacks and their first full season as starters, here's what to expect for this year's new full-time starters on third downs. They will complete less than 60 percent of their passes, convert less than 38 percent of the third downs, average less than 6.8 yards an attempt, throw more interceptions than touchdowns and average a sack a game.

If the fans realize that is part of the growing pains of the job, they will give the young starters the breathing room needed to grow and succeed. If fans expect more and get frustrated, especially in Philadelphia where the Eagles still have to face Donovan McNabb twice a year, they aren't being realistic about the difficulty of the third-down execution.
Now Joe understands this is not to say Freeman will not be a good quarterback. Joe just knows to have patience. Could Freeman have a great year? Of course. But the numbers and NFL history suggest not this year. Not yet.