Williams Backflips; McCoy Says He's "No Homo"
May 24th, 2010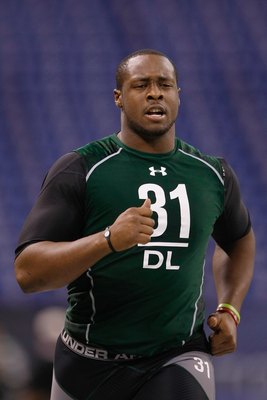 The sight of Mike Williams wearing his pewter Bucs uniform doing an endzone backflip was enough to get Joe a little jazzed for Bucs football this morning. The pickins are slim this time of year.
NFL Network cameras caught Williams' stunt at the Los Angeles Coliseum, where about 30 NFL rookies gathered to take photos at an event sponsored by the players' association over the weekend.
Williams was one of the lowest 2010 draft picks invited to the event.  
Gerald McCoy and Arrelious Benn also attended. And McCoy Twittered about what a good time he had with his 2010 draft classmates and then needed to express that he wasn't having homosexual feelings toward them.
Man the rookie class of 2010 is cool as a fan! We had a blast this weekend in LA! I loved all the fellas! No homo. Lol!!
Uh, um, thanks for clarifying, Gerald.