Winning Falcons Have No Pro Bowlers Either
December 30th, 2009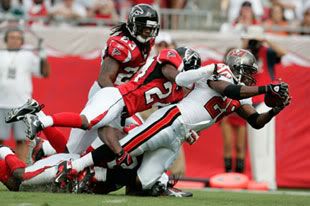 Joe gets colorful e-mail from readers at times.
One such e-mail came through this morning with particularly nasty language and ridiculously ripped Joe for even once being critical of Raheem The Dream because "he didn't even have one @#%'n Pro Bowler" to work with this season.
That's right, no Buccaneers will represent the Bucs at the all-star game. Davin Joseph, however, is an alternate.
But Joe had a simple response for the ugly e-mailer: the Falcons don't have a Pro Bowler either, and they're 8-7.
Needless to say, the Pro Bowl is meaningless. Just ask Derrick Brooks. He made the Pro Bowl last season and couldn't find a linebacker job for 2010.