Morning Cup Of Joe
April 8th, 2021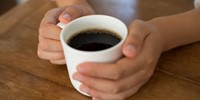 Welcome to your Morning Cup of Joe, an eye-opener to help Joe's readers ease into their busy workday with a few football links, wacky news and a pleasant distraction.
Richard Sherman doesn't expect to sign a contract with a team until after the draft. [PFT]
Warren Moon believes the marriage of Russell Wilson and the Seahawks is headed for ugly days. [CBS]
Les Snead foresees Matt Stafford playing for the Rams for many years. [Yahoo!]
Potential draft day trades that make sense. [NFL]
Former Florida State, NFL and CFL wide receiver Travis Rudolph is in some deep sh!t. He's currently caged in a Palm Beach County jail cell. Yup, the same guy. What happened? [Busted Coverage]
Reds rookie blasted in the head with a fastball. Bounces up and stays in game. Stud! [TMZ]
This may be the wildest video Joe has seen. Plane perfectly T-bones a passing-by SUV in South Florida. Three people killed. Joe swears virtually the same accident happened last month, only no one was killed. The insurance rates for homes near small airports in the Sunshine State must be outrageous. Hardly a week goes by you don't hear of a small plane crash at a tiny airport in Florida. [WTVT]
Even the Poynter Institute, the journalism thinktank that owns the Tampa Bay Times, slapped around CBS for the hatchet job "60 Minutes" did on Ron DeSantis. Think about that for a moment. [Poynter]
Connecticut man pinched for setting off fireworks in Walmart. [Post-Star]
People got triggered that Krispy Kreme was giving away donuts to those who got the vaccine (but are silent when the donut shop gives away grub for voting). So you easily offended, get a load of this: Sam Adams is giving away free beer for getting shot up! [KVOA]
Welp. [Twitter]
Hell no, Joe doesn't want to see one of these things! Now 23 years and counting.
On March 31, #teamHCSO & @MyFWC received a call at 8:45 a.m. regarding an alligator under a car at an apartment complex in Tampa. This was no small gator, it was 10'2"! FWC dispatched a contracted nuisance alligator trapper to safely transfer the alligator to an alligator farm. pic.twitter.com/7cZQyrvcm2

— HCSO (@HCSOSheriff) April 6, 2021