Rutgers Offense
October 2nd, 2013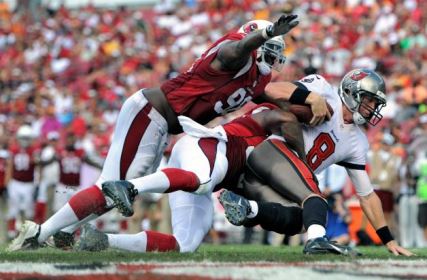 Joe hears from fans all the time about how the Bucs are awful at "play-calling." Joe asks for specifics, but rarely gets them.
Often, fans want Mike Glennon to throw the ball, despite the fact that may be the worst option, which was displayed when Glennon threw two picks in the fourth quarter last week against the Desert Rats.
Well, supreme Xs and Os guy Greg Bedard of theMMQB.com decided to study the Bucs offense and came away thinking the offense, in general, is prehistoric.
And, in what has been a Greg Schiano staple since his Rutgers days, the Buccaneers' scheme is outdated, unimaginative and too reliant on short plays. The short and intermediate passing game that is so crucial in today's NFL is essentially nonexistent in Tampa's system. It's difficult to win without it. The thing is, the Buccaneers have solid pass protection—the line ranks No. 8 in our pressure points/per snap rankings—and running back Doug Martin is second in the league, averaging 99 yards a game. Those are two essential components of playing Schiano's preferred style of offense. It means something is amiss with the quarterback and receivers. From my vantage point, both positions share the blame here. It's just easier to replace one quarterback than get several receivers to play better.
Well now, isn't it refreshing to see receivers (who have dropped passes from Josh Freeman far too often) catch some hell for a change?
People can forget about a strong passing game for at least the rest of the 2013 season. With a young, green as grass rookie at quarterback, having him throw a bunch is inviting destruction.