Shirtless Josh
September 27th, 2013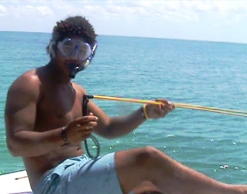 The last image Joe will have of franchise quarterback Josh Freeman is him, half-dressed, running from the local fourth estate rather than being a man and just droning a few empty words, as he is known for saying.
Instead, he had to run off to BSPN to talk, unsanctioned by the Bucs. Hey, they produced his Michael Jackson video and magazine spread, so why not? It's a thriller after all.
Tampa Tribune humorist Martin Fennelly documented the scene.
Once upon a time, it was all about 5. Once upon a time, in 2009, Josh Freeman threw three touchdowns and willed the Bucs to a comeback win over the Packers — his very first NFL start. Once upon a time, in 2010, Freeman threw 25 touchdowns and just six interceptions. Once, he was a franchise quarterback. Thursday, he was an empty locker.

There are few things more nonexistent, more awkward, than an NFL former starting quarterback still in residence. There are never ruffles or flourishes, so there were none between Freeman and Glennon, now the 33rd starting quarterback in Bucs history — no passing of the torch or the Josh Freeman Tuesday radio show time slot.

It's on to the next one. The Bucs are big on that. For 38 years, this franchise, for all sorts of reasons, has never grown a franchise quarterback — 38 years and not one Bucs QB has ever gotten to a second contract with this team. Josh Freeman was going to be the one, once upon a time.
Actually, Brad Johnson got a hefty contract extension from the Bucs and Dan Orlovsky is on his second contract, but that doesn't take away from the magnitude of the Freeman freefall.
Meanwhile, Joe must get that image of Freeman shirtless running away from the pen and mic club out of his head. Maybe after another belt of coffee, that image will be replaced by Freeman one-hopping passes to his running back.