Freeman Thinks Trade Is Best Option
September 27th, 2013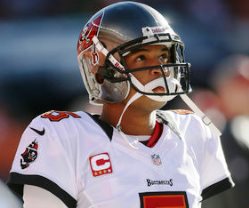 Bucs franchise quarterback Josh Freeman blew off a large gaggle of reporters Thursday at One Buc Palace — which included Jeff Darlington (pride of Seminole High) working for Big Brother, the NFL Network — and instead chose only to speak to BSPN, likely a very controlled, tempered sit-down.
Per dapper Rick Brown of the Lakeland Ledger, who transcribed the interview preview, which is scheduled to be broadcast in its entirety at a later date, Freeman, who rarely says anything outside of cliches, when cornered, admitted a trade may be best for all parties.
Then Anderson asked him straight out, "So Josh, do you want to be traded?"

This is what he said:

"I don't for a number of reasons but the bottom line is you know, if you want things to change, something's got to change. At the end of the day, yes. I think that moving forward that might be, that is going to be, probably the best option."
Just what team is desperate — or crazy — enough to pick up Freeman's $8 million contract for 2013, a guy who leads the league in inaccuracy and has proven time and again to meltdown under pressure or when the slightest thing goes wrong?
If a team is going to trade for Freeman — the best target would be a playoff-bound team who loses its signal-caller to injury — they likely want a guy who at least has seen a playoff game without buying a ticket.