Film Reveals Talib's Dominance Against Bucs
September 24th, 2013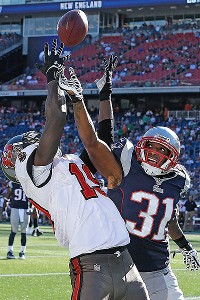 Greg Schiano's mentor, Bill Belicheat, has a new leader of his defense. The Boston Herald today even called that new leader the "backbone" of the unit.
He would be helmet-wielding, cabbie-slugging, Adderrall-popping, coach-cussing, referee-charging, pistol-friendly, granny-hassling Aqib Talib.
The Herald published a film breakdown of Talib's dominance of the Buccaneers on Sunday, including how Talib's study led to his interception. Here's a large excerpt, but the entire piece is a good read.
That's how Talib worked against the Bucs, who tried a few different ways to create space for Jackson. Yet, Talib followed him wherever he went, lining up at left corner 19 times (Jackson caught 1-of-2 passes for 12 yards), the left slot seven times (1-of-2 for 19 yards and an interception), the right slot three times (1-of-1 for 3 yards) and right corner nine times (0-of-1).

Talib's ability to handle Jackson was impressive, using a number of tactics to slow down an explosive player who totaled 15 receptions for 306 yards and three touchdowns in his previous two outings against the Pats.

There was a play when Talib pressed Jackson at the line and was strong enough to guide the receiver out of bounds. Talib's hand technique was also strong enough to disrupt Jackson when he gave him enough space to release from the line. That gave Talib the option to change up his approach. The cornerback's hips are fluid enough to grant some receivers a free release before turning and staying with them down the sideline.

To be fair, that tactic nearly backfired when Jackson beat Talib for a could-have-been 38-yard touchdown. Talib got a fingernail on the ball at the last moment, but Jackson still should have had it.

The Bucs tried different ways to free up Jackson, including a couple of pick routes and bunch formations, but he still only caught three passes for 34 yards. There was one great design when Jackson ran a submarine route behind the offensive line before catching a 3-yard pass on third-and-2, and those routes are nearly impossible to defend.

Talib also had a pristine interception when he recognized Jackson's route through film study and practice, where coach Bill Belichick said he picked off that exact play against the scout team a couple of times. That playmaking ability has led to Talib's four forced turnovers in three games.

When Jackson departed in the third quarter, Talib shifted his focus to Williams. While shadowing Williams, Talib played left corner 10 times and right corner 10 times, and broke up an end-zone throw with less than two minutes remaining in the fourth quarter, which was the first time Freeman targeted Talib since the opening play of the third.
With Talib having a shutdown kind of day and Vincent Jackson getting hurt, the Bucs' lack of depth at wide receiver and tight end was highlighted.
Tonight on his radio show, Josh Freeman acknowledged that rookie tight end Tim Wright and WR Eric Page (who was hurt his entire rookie season) were pressed into tough duty considering the Bucs' complicated offense. Freeman had high praise for what Page delivered and said Wright shows talent in practice.
Regardless, Talib was stout against the Bucs. Joe would still bet on Talib doing something stupid and suspendable before the season is over, but on Sunday he did, in fact, burn his old team.