Pounding Doug Martin To Nowhere
September 8th, 2013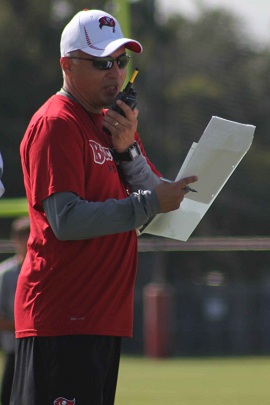 Joe really doesn't get what Mike Sullivan was doing out there today.
Everybody and their brother knew what the Jets were going to bring defensively, and it was as if the Bucs weren't ready for it.
Huh?
Doug Martin was pounded and pounded in the running game and did nothing, 24 carries for 65 yards. He caught two balls for negative yardage. Rockstar general manager spoke numerous times this preseason about the depth and talent in the Bucs' running backs corps, yet Martin was the only guy to get a carry.
Was there nothing that Sullivan could dial up with two-back sets to create some uncertainty for the Jets' defense? There were no carries for Brian Leonard and Peyton Hillis. Tight end Nate Byham started at fullback and it's obvious he can't run block well.
The Bucs didn't set up much play-action, trickery was absent, and shots downfield were limited. The Bucs got nothing from the tight end position, and Kevin Ogletree (no catches) was a Michael Clayton clone again, minus the blocking.
Sullivan was outcoached today. It happens, but it really shouldn't look like this after an entire offseason to prepare.
Yes, preseason games are just meaningless practice. But today the Bucs' offense played the way it practiced.