"Josh Is A Leader"
September 7th, 2013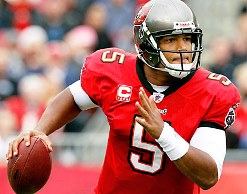 A lot of Bucs fans seemed to try to connect dots that did not exist between the Bucs players not voting franchise quarterback Josh Freeman as a captain and Freeman's status both with his team and his teammates.
No need to go there, Bucs commander Greg Schiano said yesterday in his daily press conference. There are no dots to connect. Freeman is the team's leader, he said.
"I know one thing: Josh is going to lead,' Schiano said. "Josh is a leader, so I'm not concerned about that. If you look the last two years, Davin didn't play last year, so, when we voted, Davin was out for the year. The year before, Vincent wasn't on the team. Those two guys are strong leaders and it just so happens that Josh is on a team with other strong leaders. But I wouldn't read to that that Josh isn't a leader. I'll tell you, to a man, I think every offensive player will say 'we follow No. 5.' So I think it's a good thing. I guess it all depends how you look at it, but I'm fine with it."
Joe thinks captains, at least in the NFL, are terribly overblown. You are dealing with men here, not high school kids or college guys.
Joe thinks Schiano is dead-on. Freeman is the leader of the offense. That simple. He's the guy that has the ball in his hands each and every snap. He controls the offense and huddle, hence he is a leader.