"Time To Make The Doughnuts"
September 3rd, 2013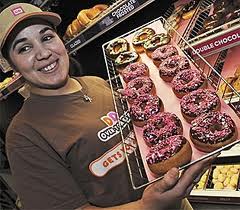 It's Jets Week at One Buc Palace. Yes, the regular season is here. The Bucs are preparing to face the Jets in the New Jersey Swamplands in just five days — five days! — which could be the start of a magical season, or the beginning of a nightmare.
Such is the NFL, trying to figure out what rollercoaster to ride.
Woody Cummings was hanging out at One Buc Palace on an otherwise national holiday and the Tampa Tribune scribe noticed a much different vibe in the Bucs locker room and from Bucs commander Greg Schiano, than in recent weeks.
In short, said Schiano, "It is time to make the doughnuts."
"There's definitely a renewed energy now,'' Schiano said. "I mean, you go through training camp and it's bang, bang, bang and there's a kind of 'Time to make the doughnuts' mentality. But now, all of a sudden, we have a game — and soon.

"So now you get to where you're spending a lot of hours game-planning, and that's the fun part of coaching, where you actually take that scheme and mesh it into another team's offense, defense and special teams.

"Now you're fitting this coverage to their route or fitting this protection to their blitz. It's very specific: 'When you set here on so and so, be ready.' Or, 'This is how he's going to run this route.' ''
The time for evaluation is over. If Schiano and his crew haven't yet figured out who the best 53 men are, then there's not much Joe can say. Instead of evaluating talent, Schiano and his staff are now poring over tape trying to find edges with the Jets.
This is the fun part of football, both for coaches but players and, yes, even fans.
Joe can just smell the sweat of players the season is so close.