Bucs Get Cornerback Injury They Can't Afford
August 29th, 2013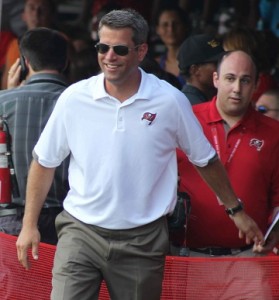 Rookie cornerback Rashaan Melvin, a guy the Bucs are counting on, "tweaked a hamstring a little bit" tonight against the Redskins, so said Greg Schiano after the blowout loss.
Hamstring issues are rarely pretty and rarely disappear quickly.
Unfortunately, the Bucs are very thin at corner. In fact, this week Schiano said another injury at the position would damage the Bucs' depth significantly. Danny Gorrer is recovering from groin surgery, and Anthony Gaitor was lost recently for the season with a blown knee. The loss of those two left the Bucs in a tough spot.
Yeah, Melvin is just an undrafted rookie, but he arguably is the Bucs' fourth or fifth cornerback on the depth chart. In other words, he's a guy who likely would get a lot of playing time when the Saints are in Tampa in 17 days running all kinds of high-pressure aerial assaults.
Joe's hoping Melvin's hammy is just a "tweak." Otherwise, look for rockstar general manager Mark Dominik to pounce on the waiver wire when cuts go down across the NFL in the coming hours.