What A Difference A Year Makes
August 22nd, 2013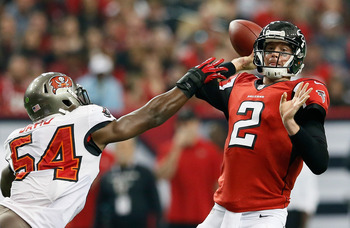 Last season the debut of the New Schiano Order happened on a rainy night in South Florida. There, a young rookie by the name of Lavonte David, who few outside the Midwest has watched play at Nebraska, began what would be a remarkable rookie season with the Bucs.
A year later, David not only is known by every Bucs fan, but he is also a leader and perhaps one of the best linebackers in the NFL. Wednesday, David reflected upon what has been a whirlwind year, as the Bucs prepare to travel to South Florida once again in the preseason.
"It's a big step up from where I was last year. I was just a young guy, trying to learn and do what I [had] to do, go out there and play. But now I'm just trying to get more involved. I'll be a vocal guy on the field, so I'm just trying to excel in that role as well. It's different now, I feel a little more confident, so we'll see how it goes."
There are a lot of questions about the Bucs defense. Who will play strongside linebacker? Can the Bucs get any heat on quarterbacks? Can Adrian Clayborn bounce back from knee surgery; can Darrelle Revis?
One area that has no question is the ability of David to wreak havoc on opposing offenses from his weakside position.