"I'm Not Frustrated."
August 19th, 2013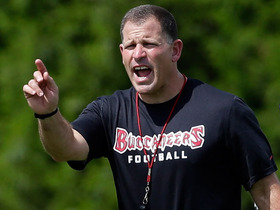 While small pets ran and hid from their masters this past weekend, cowering in fear of being drop-kicked because their masters were so frustrated with a Bucs loss — a preseason loss — the calm amid the hysteria is Bucs commander Greg Schiano.
Among the topics that had Bucs fans running to their liquor cabinets after the loss to the Patriots was the play/non-play of defensive end Da'Quan Bowers. He's a player who has a pile of Bucs eggs in the team basket. Fans see Bowers eggs beginning to crack, per Bucs personnel; he is not living up to the demands of Schiano.
Bowers has struggled so much to become that every-down lineman the Bucs need, he didn't even start the preseason game at New England.
But Schiano states, unlike Bucs fans, he is not rattled by Bowers' play.
"Da'Quan's embracing the opportunity without a doubt. I'm not frustrated, you know, I'm not frustrated," Schiano said. "There are certain days that I'm disappointed that we didn't do more, that we didn't get it better, but he's making progress and as long as he keeps making progress he's going to be a great player. It's just we have to keep making progress. I actually thought he did some things Friday night that we haven't seen him do, so I thought he played better. We just have to keep making progress with him and he will. I mean, this guy wants it badly and he's willing to do what we ask, so it's just a matter of time."
That's the key element in this subject. Bowers has taken to Schiano (and his assistants) and is as driven to succeed as the coaches. If Bowers was sulking (like LeGarrette Blount did) or moping around grumbling (like Sgt. Winslow did) Bowers would likely be traded or cut by now.
When coaches begin ignoring you, that's when it is time to worry. The coaches have not ignored Bowers one bit. And he is doing his best to appease them and improve his play. That's a giant first step.