Doug Martin Itching To Play More
August 19th, 2013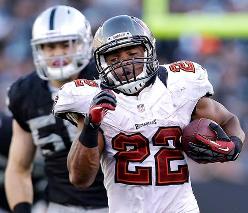 There seems to be buzz beginning among Bucs fans who wonder aloud why the starters (sans, Da'Quan Bowers, if indeed he is a starter), are getting so few reps in preseason. Joe will address this in another post but there's one Bucs Pro Bowler that is all but begging Bucs coach Greg Schiano for more reps, and it isn't Darrelle Revis.
No, that player in question would be one Doug Martin, the Bucs' stud running back.
Martin has logged just five plays through two preseason games. One reason is he had his bell rung — no official concussion — when he took a knee to the head early in the loss to the Patriots while blocking.
"Got a knee to the head, got a little dazed. I practiced today. I am fine. I definitely want to play (against Miami). Previous two games I only got five plays. I would like to get two or three quarters in," Martin said today.
Joe wonders if this limited action for so many starters is smart or not. Of course, Schiano said it is all part of a precise, well-thought out plan. Everything is going as expected, Schiano said today.
Usually, the third preseason game is when the starters play most. It will be interesting to see just how many plays both the offensive and defensive first teams of the Bucs will log in Miami Saturday.
To hear more of Martin, click the arrow below. Audio courtesy of Joe's good friends at WDAE-AM 620.