Mechanics, Scheme May Hinder Freeman
August 19th, 2013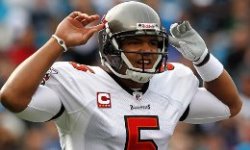 Joe knows there is no subject Bucs fans want to pounce on more than Josh Freeman (and the secondary subject pushed by the Mike Glennon Mob, replacing Freeman with an untested rookie third-round pick).
There have been debates both pro and con about whether Freeman can finally turn the corner and be the elite quarterback Bucs rock star general manager Mark Dominik thought him to be when he traded up in the first round to grab the Kansas State product.
In what Joe believes is one of the most exhaustive studies of Freeman, good guy Doug Farrar of SI.com broke down film as well as consulted with noted quarterback gurus Greg Cosell of NFL Films and former NFL quarterback and film junkie Ron "Jaws" Jaworski. Farrar, like just about everyone else, has no idea if Freeman will be "Evil Josh" or "Good Josh" this season. That has been the nagging tag on Freeman his whole NFL career but one: inconsistency.
Farrar believes Freeman's current problems lie in two areas: mechanics and Bucs offensive coordinator Mike Sullivan's scheme.
Scheme and opportunity

Another comparison between Freeman and Flacco – former Ravens offensive coordinator Cam Cameron preferred isolation routes for his receivers, leaving Flacco with a lower margin for error when things went wrong. When Cameron was fired on Dec. 10, Flacco had seven games in the regular season and postseason with new offensive coordinator Jim Caldwell, who brought more diverse concepts to the table. Flacco's stat line in seven games under Caldwell: 122 completions in 210 attempts for 1,737 yards, 15 touchdowns, and one interception. That includes a postseason with 11 touchdowns and no interceptions, something that only Joe Montana (1989) has done in a single stretch.

Tampa Bay's offense frequently uses the ISO concept as well, and though the Bucs have receivers who can execute physical wins over cornerbacks in Jackson and Williams, it still leaves Freeman with fewer escape routes than he would have in a more varied offense.
Joe strongly encourages Bucs fans to click the link above and read this article. It is both very fair and very enlightening.
To be fair about how Freeman seems to play much better when rolling out or freelancing, Joe had noticed in training camp several designed roll out plays that the Bucs were practicing, so perhaps Bucs commander Greg Schiano and Sullivan saw on tape what Farrar also noticed. Joe will state again for all the world to read: The absolute best chance the Bucs have at a playoff berth this winter is with Freeman starting. He has already proven he can win double-digit games but has also proven that he hasn't led his teams to the playoffs.
Freeman, through and through, is a confusing lad to figure out.