"Rock Star" Mingles With The Fans
August 19th, 2013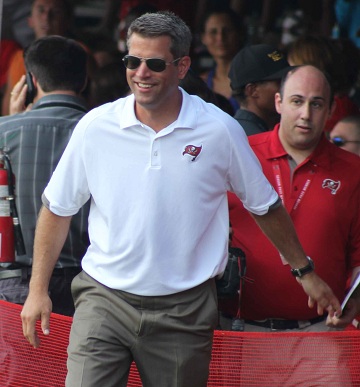 Joe just knows he's going to get flamed for this being some suck-up maneuver. Whatever. Joe just thinks the following is way cool.
Joe's friend Derek "Old School" Fournier of WhatTheBuc.net, who runs a large and rabid Bucs fan club, hosted a kickoff party at a chicken wing joint in Tampa on Saturday. Derek, via e-mail, invited Joe. Though Joe is in the middle of moving (damn, you just never realize what a pain in the arse that is until you are in the middle of a move), Joe took a few minutes off to go have a couple of beers and BS with Derek and other Bucs faithful.
Well, Joe was shocked. Joe pulled up and the place was absolutely packed. Joe had to park in an alley a few blocks away. As Joe walked up to the place, none other than Bucs rock star general manager Mark Dominik is there chatting it up with busty former Bucs cheerleader Lauren. A bit later, Joe noticed Derek and lauded him for luring Dominik to his kickoff bash. "No," Derek told Joe, Dominik was not invited (but very much welcome). Dominik showed up unannounced.
Seriously.
Derek, who expected a crowd, had hired Hillsborough County deputies for security. Derek offered Dominik police muscle in case some drunk got a little too handsy and Dominik waved off the suggestion. Meanwhile, Dominik easily mingled through the crowd, trying to say something kind to each and ever Bucs fan.
"I had to come out here," Dominik said. "These fans are just great. I love their passion."
Joe thinks it's way cool for an NFL general manager to randomly show up at a fan party, and press the flesh and thank Bucs fans personally.
Go ahead and ask yourselves how many NFL general managers would do this? The answer: Not very many.
Football season is around the corner, folks.