Listen To The Bucs
August 14th, 2013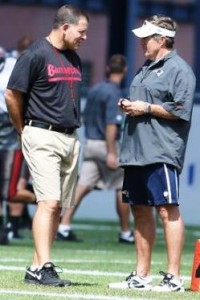 Joe's good friends at WDAE-AM 620, by way of the Tampa Bay Buccaneers, have some quality audio from today's memorable joint practice with the Patriots. Joe already brought you the words of Greg Schiano. Now it's defensive end Adrian Clayborn, defensive tackle Gerald McCoy and quarterback Josh Freeman.
Last but not least is Pats coach Bill Belicheat, who spoke before practice.
Again, the audio is courtesy of WDAE-AM 620 and the Tampa Bay Buccaneers.