Bowers Has No Beef With Schiano
August 10th, 2013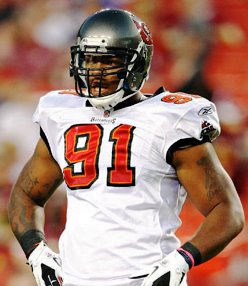 There is no question Bucs coach Greg Schiano has been a bit disappointed in the training camp practices of defensive end Da'Quan Bowers. The Bucs have put a lot of eggs in their basket, banking on the former Clemson star to finally deliver on his pass rushing potential, which made him a second-round pick.
Due largely to a combination of injuries and a lack of playing time, Bowers has yet to develop into that fearsome presence the Bucs thought he would be. Schiano has not shied away from saying he was expecting more from Bowers as an every-play defensive end instead of the pass-rushing specialist he has been.
Bowers himself is a bit disappointed in his progress this summer, and he has no issue with the Bucs head honcho using all means to help Bowers get on track.
"I'm an unproven defensive end in this league; I felt like I needed the extra work," Bowers said of playing a full first half Thursday night in the Bucs' preseason opener. "I talked to Coach [Schiano] about it. He agreed, I agreed, so we came up with the plan."
Prior to the game, Schiano noted players who need work will get plenty of work. Bowers proved it.
"Coach is a straightforward guy and I respect him," Bowers said. "It's like you said, he said he wanted more out of me, so it's my job to come out here and give him more, give him all that I have until I don't have any more.
"There are a lot of improvements to be made, a lot of work to do before we go to New England, but, you know, it's got to be done and I'll get it done."
Schiano said after practice that Bowers needs more work and must improve, but he believes Bowers has the talent to overcome.
"Well, Da'Quan has what we refer to as heavy hands, he's strong," Schiano said. "So, when he puts his hands on you, you feel it. When he plays with good pad level and does that, he's a force. But when he doesn't, he's not a force. I don't know if you can put your finger on one single thing. I think it's just practicing being a consistent player.
"If he responded differently [to Schiano's ways], he wouldn't get any more playing time, and that's what he wants. So if he didn't want that, he might respond differently. But it's certainly not anything personal, we both want the same thing; he wants the same thing; he wants to be an every-down player, and we need an every-down defensive end. We're just trying to get there."
Joe only hopes Bowers can turn the corner, unless Steven Means and/or William Gholston break through to be studs. Otherwise, the crying about the Bucs not signing John Abraham will go unabated until next year's draft.