"Challenging Josh Openly"
August 10th, 2013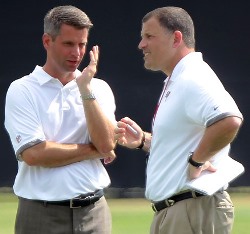 Bucs icon Ronde Barber was somewhat all over the place when it came to Josh Freeman, during his color analyst work on the Bucs-Crows preseason broadcast.
Barber gushed over Freeman's skills, saying Freeman was a true MVP candidate before the Bucs' collapse last season. Then, in nearly the same breath, Barber talked about how much he liked that the Bucs are "challenging Josh openly" to reach a star-quarterback level, and Barber referred to Mike Glennon as true "competition." Yet Barber went on to say he believes Freeman will get a long-term contract from the Bucs because Freeman has the skills and work ethic to become great. However, Barber also raved about Glennon's throwing skills and poise in just his first NFL action.
C'mon, Ronde. Tell it to us straight.
Joe's not ragging on Barber here. The reality is that the state of Freeman is complex with many layers.
Glennon is real competition — for next year, in Joe's opinion — when the Bucs will have to decide whether they want to pay Freeman around $18 million to $20 million a year to lead the team, or let Glennon take the reigns for $800,000 and use the salary cap money in other areas.